Note: It's been almost three weeks since I've blogged baseball here. Since then, MichiganGoat has claimed his prize (congratulations!) just in time for the Swimsuit issue. Heh. After almost a week of birthday celebration and a focus on homework and writing for the UWM Post, Baseblog is back. 
I'll be the first to admit that I haven't been keeping up with baseball lately. This lull right before Spring Training … well, it really makes me look forward to those sunny exhibitions. I've heard the big headlines this month, same as you, but some of the smaller stories may have fallen through the cracks. Thus, I present those smaller stories – headlines you may have missed – as we ease back into regular NL Central coverage. Enjoy the fluff.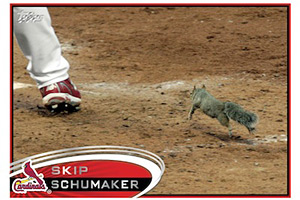 ST. LOUIS CARDINALS HEADLINES
CINCINNATI REDS HEADLINES
MILWAUKEE BREWERS
PITTSBURGH PIRATES
The Pirates haven't had any truly interesting headlines that I could find, but a big splash may be on the way. A number of sources are reporting that the Bucs are close to acquiring AJ Burnett from the New York Yankees. I'm sure fans would prefer that news to a bunch of fluff pieces anyway.
CHICAGO CUBS
WGN is looking for the "next great Chicago Cubs song" to use as their official radio tune for the 2012 season. Musicians and wanna-be musicians alike have until February 29th to submit their piece.
Matt Garza's home was robbed and his 2008 AL Championship ring was stolen. Fellow Cubs pitcher Randy Wells has been honored by his old high school on "Randy Wells Night." Continuing with the starting pitching theme, Curt Schilling predicts success for the Cubs under Theo Epstein.
Finally, Brett at Bleacher Nation wrote about Tom Ricketts and Theo Epstein's place on the 100 most powerful Chicagoans list. Ricketts is #30, while Theo comes in at #48. I include this link mostly because I cannot get enough of that picture of Theo you see to the right. Just don't tell my girlfriend.
HOUSTON ASTROS
Mike Tauser at Ultimate Astros writes about the odd but pleasant happenstance involving one of the Astros' prospects and the H1N1 virus that was running rampant a few years ago. These types of "what if" situations are fun; sometimes things work out for the better.
Milo Hamilton, after 28 years of Astros coverage, will retire as Houston's radio man after the 2012 season. Hamilton has attained a number of accomplishments throughout his career, and even called Hank Aaron's 715th home run.